What does Iran want from nuclear talks?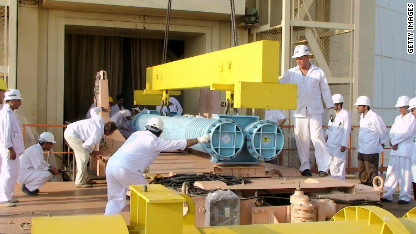 (CNN) -- When Iranian officials arrive at the next round of nuclear talks in Baghdad on May 23, they will seek to advance several of their own goals, while only making modest changes to their nuclear program.
Tehran's goal is to engage with the United States. Although the meeting will involve six world powers -- Russia, China, France, the UK, Germany and the United States -- it is the only venue it has to speak to American officials.
Any breakthrough in talks with Washington might help ease mounting tensions with America's allies in the Middle East, including the Gulf Arab States and even Israel. Furthermore, it will ease voices inside Iran that oppose talks with the United States, without whose consensus Iran will be unable to shift the direction of its nuclear program.
Iran wants to get Washington to accept it is a player in Middle East politics. This grants it leverage to negotiate new terms of agreement over its nuclear activities. In return, Tehran will offer solutions to its conflicts with the United States in the region.
Banafsheh Keynoush
Unlike the United States, Tehran currently supports the Syrian regime and will aim to ensure that a future Syrian government will protect Iranian regional interests. Iran supports Palestinian Hamas against the U.S.-backed Palestinian Authority. Iran supports Baghdad's Shia government, which makes Iraq the only Arab country in the Persian Gulf to have closer ties with Iran than with America's Arab allies.
Iran also aims to keep Israel at arm's length. It likes to portray Israeli hostility as a case of simple regional rivalry rather than one based on the real threat of a nuclear Iran. Ongoing talks allows it to maintain just enough transparency over its nuclear program to make the case that it is not fear of a nuclear Iran which prompts Israeli hostility, but the fact that it is capable of counter-balancing Israeli power in the region.
Iran will therefore insist in the talks what Israel refuses to accept, that all states must join the Nuclear Non-Proliferation Treaty, eliminate existing nuclear weapons stockpiles and have the right to develop peaceful nuclear energies.
CC:
Read More From Source
Related Articles
An exhibit of proper sbobet football fat
May 21, 2013, 2013 03:03:25 AM
---
To keep healthy, Eating healthy is the key
May 20, 2013, 2013 10:31:15 AM
---
Ideas to Stay Healthy using the Healthy Cooking Appliances
May 20, 2013, 2013 04:53:02 AM
---
TrakLive software
May 16, 2013, 2013 10:26:53 AM
---
Online Timesheet and time tracking Software
May 16, 2013, 2013 08:52:19 AM
---