Jagan to stay in jail till June 25, complains to court about 'insult'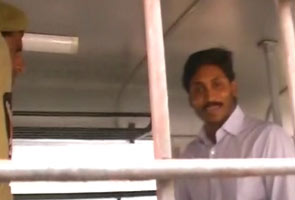 Hyderabad: Jagan Mohan Reddy's troubles are scaling up considerably. The politician was told on Monday morning that he would have to remain in jail till June 25. He is being interrogated by the CBI for alleged corruption. The agency today asked for the court's permission to conduct a narco-analysis test on Mr Reddy, who has complained in letter that he is being humiliated by the government and has threatened to launch a hunger-strike in jail.

The extension of his judicial remand was not the only bad news for Jagan Reddy today. A few hours later, the Andhra Pradesh government announced that it was cancelling a lease granted for mining to Mr Reddy's brother-in-law, Anil Kumar. The deal, signed between the government and his Rakshana Steels, authorised him to mine iron ore over a spread of 1.41 lakh acres.

In court today, Mr Reddy, who heads the YSR Congress, complained to the CBI court judge that the police had insulted him by bringing him to court in an ordinary police vehicle. In a two-page, hand-written letter, with crossed-out words and corrections, he contended that "only with an intention to carry out political vendetta and to humiliate me I was deliberately bought in a van used for transporting regular criminals without regard to my status as a special class prisoner and disregarding my status as an M.P enjoying 'Z' category security."
The 39-year-old MP said his security had been "seriously compromised" by him not being given a bullet-proof car to travel from jail to the courthouse.

The politician also complained about prison authorities denying him permission to meet his wife Bharati and other family members regularly. "If this continues, I may be compelled to go on a fast unto death against the government," he said, telling the judge that "I have not committed any crime. I am only an accused and not a convict."

The judge then directed the police to arrange a special vehicle for Mr Reddy for security reasons. Later, a bullet-proof vehicle was arranged to take him back to jail.

Mr Reddy was arrested on May 27. He had been told that he would be allowed to leave jail today, 24 hours before crucial elections are held in 18 Assembly and one Lok Sabha constituency. Mr Reddy, who is 39, was busy campaigning when he was taken into custody. His mother, Vijayamma, and his sister, Sharmila, have accused the government of having him arrested to prevent him from meeting voters.
CC:
Read More From Source
Related Articles
I will make 250+ Contextual backlinks + 2500 Social bookmarks for $5
May 22, 2013, 2013 07:42:11 AM
---
To keep healthy, Eating healthy is the key
May 20, 2013, 2013 10:31:15 AM
---
Ideas to Stay Healthy using the Healthy Cooking Appliances
May 20, 2013, 2013 04:53:02 AM
---
Online Timesheet and time tracking Software
May 16, 2013, 2013 08:52:19 AM
---
TrakLive Bug Tracking and Issue Tracking Software
May 15, 2013, 2013 09:51:36 AM
---