'Spain's training ground is a grave for my family' - While Uefa spends billions on Euro 2012, locals go unpaid
Preparations for the tournament cost over €20 billion in Poland alone, yet many construction workers haven't been paid for months and are becoming restless, Goal.com investigates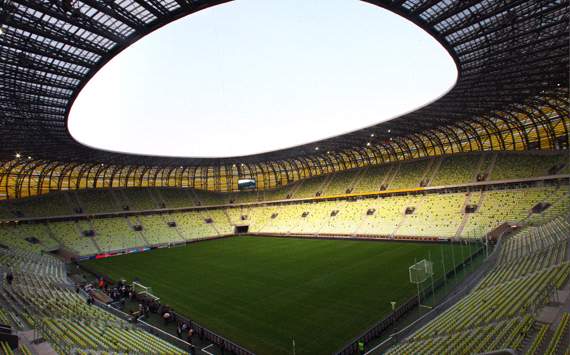 SPECIAL REPORT

The simple principle of a fair day's pay in exchange for a fair day's work is one that is universal. When employer and employee reach an agreement for a service-pay exchange, it's something sacred. And when that sacrament is broken, the fallout can turn ugly very quickly.

Such is the dilemma the city of Gdansk faces as construction workers demand compensation for the building of a still-incomplete road between the local airport and PGE Arena, host of four matches at Euro 2012.

While European and world champions Spain relax at their five-star hotel complex in Gniewino, the workers, who built their training ground, have gone months without pay. The workmen, sub-contracted by now-defunct company Hydrobudowa, claim to be owed three million Zloty (€704,000), and showed their outrage as they blocked traffic to Monday's Group C match between Spain and Croatia.

Full-out crisis for Uefa was averted, however, as protestors reached a compromise with police that did not affect kick-off. After pledging to bring as many as 60 construction vehicles to create a barrier on Slowackiego Avenue, the organisers downgraded to 20. Instead of completely blocking traffic, they allowed emergency vehicles, as well as fan-carrying buses, to pass.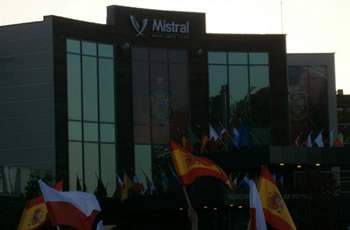 "While Spain relax at their five-star hotel complex in Gniewino, the workers, who built their training ground, have gone months without pay"
At a press conference on Tuesday, Gdansk transportation co-ordinator Mieczyslaw Kotlowski spoke of a "calm" demonstration.

"Thanks to the goodwill of both sides, we managed to avoid a problem we were very concerned about in the morning," he told Goal.com.

"The demonstrators asked the police to talk; they didn't want to cause trouble.

"They wanted to show how they were wronged and wanted to be noticed as people who had financial trouble without any fault of their own.

"These people have families."

Uefa can be satisfied that Monday's match was not affected, but that is of little compensation to Tadeusz Kunda, who during the protest held a sign reading: "Euro 2012: At What Cost?"

The manager of Eurostal, one of many companies sub-contracted by Hydrobudowa, Kunda is among hundreds of workers who haven't been paid since March, or even earlier; some have gone without wages since October.

"The stadium in Gniewino is a grave for my family. It has destroyed me. For 20 years I've paid taxes from contracts I haven't been paid for," an emotional Kunda told Goal.com. "Everybody's happy; the mayor is happy, all in smiles, but who is talking to me?

"I built the stadium in Gniewino and now I'm nothing. I wasn't even let in for the training session, as [security guards] made me out to be a hooligan.

"Today I called Internal Revenue to ask them for a rope that I could hang myself on, because I can't afford one."

In addition to constructing Spain's training complex, Eurostal were contracted to build a road from the local airport to the PGE Arena. Fed up with their situation, workers abandoned the project last month, leaving the road broken into three disconnected segments. Their frustration boiled over on Monday as Kunda organised the protest to send a message to authorities.
Today I called Internal Revenue to ask them for a rope that I could hang myself on, because I can't afford one

- Kunda
Uefa and the Spanish FA (RFEF) both declined to comment on the protests, which Kotlowski described as "legal", and met with compassion. However, the problem remains that Kunda and many others have yet to receive their wages.

Gdansk is not the only Euro host city with the problem of unpaid workers. Subcontractors in Warsaw claim to be owed 100m Zloty (€23.5m) in association with the construction of the National Stadium. However, Monday marked the first organised demonstration by disgruntled workers.

And in all likelihood it won't be the last: Emilia Salach, speaking on behalf of the mayor's office, confirmed on Thursday that workmen will stage another protest, this time closer to the PGE Arena, in an area that will disrupt traffic to Friday's Euro 2012 quarter-final between Germany and Greece. The mayor has proclaimed the demonstration illegal, with Salach declaring it "a threat to the residents' health and safety".

"If the roads are blocked, police and medical services cannot get through," she explained.

Police representative Marcin Steplewski claimed on-scene officers will try to negotiate with protestors, but did not rule out the option of using force to break up the demonstrations, which will be held between 17:00CET and 19:00CET on Friday.

Local authorities on Tuesday revealed the city expects 50,000 Germans alone to make the short trip to Gdansk, and with the quarter-final being the city's last match at Euro 2012, protestors may be less inclined to co-operate with police.

Hydrobudowa, part of the debt-laden PBG group, has been granted bankruptcy protection, but claims to be unable to pay all its subcontractors. It is the biggest Polish construction company to falter following a €20 billion spending spree ahead of the tournament.
CC:
Read More From Source
Related Articles
I will make 250+ Contextual backlinks + 2500 Social bookmarks for $5
May 22, 2013, 2013 07:42:11 AM
---
An exhibit of proper sbobet football fat
May 21, 2013, 2013 03:03:25 AM
---
To keep healthy, Eating healthy is the key
May 20, 2013, 2013 10:31:15 AM
---
Ideas to Stay Healthy using the Healthy Cooking Appliances
May 20, 2013, 2013 04:53:02 AM
---
TrakLive software
May 16, 2013, 2013 10:26:53 AM
---