Charlesworth K. Carter: Serial bad Toronto contractor sentenced to 90 days in jail
Six years ago, Ann Alves hired a contractor to renovate the kitchen and bathroom in her Ajax home. She gave Charlesworth K. Carter nearly $6,000, about half the total, as a deposit.
For that she received a partially finished bathroom and an uninstalled shelf and vanity dropped off in the garage. Now the bathroom remains unfinished, save for the tiling that another contractor completed, and the shelf and vanity remain in the garage, turned into makeshift storage units.
Alves is just one of several victims of Carter's company, C.K. Carter Kitchen and Bath Renovations, which used to operate out of a squat industrial building on Lawrence Ave. near the Don Valley Parkway.
Carter, 59, was sentenced to 90 days in jail in early June for taking a $4,000 deposit from a couple to renovate their Etobicoke home — which he never completed — thereby violating the Consumer Protection Act on four counts. The sentence also includes Carter's violation of his probation for refusing to repay Alves' money. It's the second time he's violated a court-ordered ruling to repay her.
"I could really use the money," said Alves, whose husband, Franklin, is bed-ridden and requires constant care after suffering several strokes in 2003. "It's been difficult to work because I need someone to watch my husband if I leave."
Because of the time needed to care for her husband, which is aided somewhat by a personal support worker who feeds and bathes him, Alves' catering business isn't a continuous source of income.
Carter was sentenced to 35 days in jail in 2007 for three counts of contravening the consumer act and ordered to repay Alves $6,000. He paid her $800 at the time, but nothing since, which violated his probation. He was sentenced to a further 20 days in jail in December 2009.
Carter hasn't responded to the Star after a letter was delivered to his apartment in north Toronto. The police are also looking for him, after the court issued a warrant for his arrest.
He was convicted in a similar incident in Richmond Hill in 2005 and ordered to repay $3,000, which he also didn't do.
CC:
Read More From Source
Related Articles
Badu: We respect every team but fear none
Jan 27, 2013, 2013 05:06:55 AM
---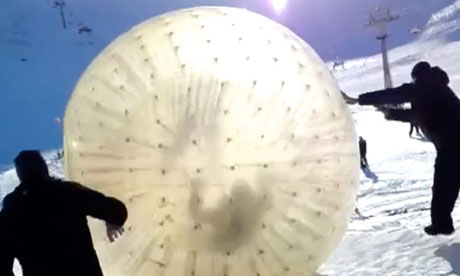 Zorb ball ski slope disaster kills Russian man and badly injures friend
Jan 09, 2013, 2013 11:02:16 AM
---
Wild-card weekend LVPs: Shanahan's bad call may cost the Redskins dearly
Jan 07, 2013, 2013 04:11:15 AM
---
U.K. Manufacturing Revives as Euro Factories Struggle: Economy
Jan 02, 2013, 2013 06:40:55 AM
---
Is Being Overweight Really Bad For You?
Jan 02, 2013, 2013 05:21:52 AM
---