Romney Campaign Boxes Itself In On Outsourcing, Offshoring Debate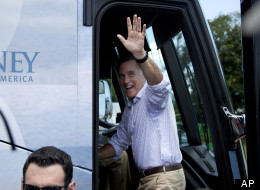 WASHINGTON -- After the Washington Post published a story last week detailing how Bain Capital investments may have helped send American jobs overseas, the Mitt Romney campaign tried to draw the very legitimate distinction between "offshoring" and "outsourcing" in the modern American economy.
On Friday, Romney campaign spokeswoman Andrea Saul quickly criticized the Post for not adequately defining the two trends. "This is a fundamentally flawed story that does not differentiate between domestic outsourcing versus offshoring," Saul said.
On Sunday, Romney campaign strategist Eric Fehrnstrom advanced the outsourcing versus offshoring distinction, providing perfectly adequate definitions of both phenomenons. "There's a very simple difference between outsourcing and offshoring," Fehrnstrom said on CBS' "Face the Nation." "[Outsourcing] is done by companies every day. They take functions and they allow vendors to do it rather than handling it in-house. Offshoring is the shipment of American jobs overseas."
But to distance Romney from offshoring, Fehrnstrom ends up giving implicit approval to domestic outsourcing. It's an unfortunate political position to be in, particularly during a campaign that's not just about American jobs but the qualityof American jobs. Outsourcing may not eliminate jobs the way offshoring does, and the Romney campaign did not immediately respond to a request for clarification on its stance on domestic outsourcing. But in many industries, outsourcing ultimately leads to lower wages, fewer benefits and less job security for the same position.
Take the American warehouse industry. As HuffPost reported last year, much of the retail supply chain is now predicated upon a system of outsourcing, whereby retailers hire third-party "logistics" providers, many of whom in turn hire labor agencies, who in turn hire temporary workers -- the sort of vendor-based system Fehrnstrom spoke of. This outsourcing reduces costs for companies at the top of the chain, who don't have to worry about hiring employees directly and paying decent wages, no doubt helping keep prices down for consumers. But there's a price to be paid by workers on the bottom rung. Many of them end up working on a temp basis for around minimum wage with no benefits and no guarantee of a job the following week.
CC:
Read More From Source
Related Articles
To keep healthy, Eating healthy is the key
May 20, 2013, 2013 10:31:15 AM
---
Ideas to Stay Healthy using the Healthy Cooking Appliances
May 20, 2013, 2013 04:53:02 AM
---
Online Timesheet and time tracking Software
May 16, 2013, 2013 08:52:19 AM
---
TrakLive Bug Tracking and Issue Tracking Software
May 15, 2013, 2013 09:51:36 AM
---
Online Project Costing Software - A Cost Saving Business Solution
May 15, 2013, 2013 02:46:51 AM
---