Peña Nieto projected winner in Mexican presidential vote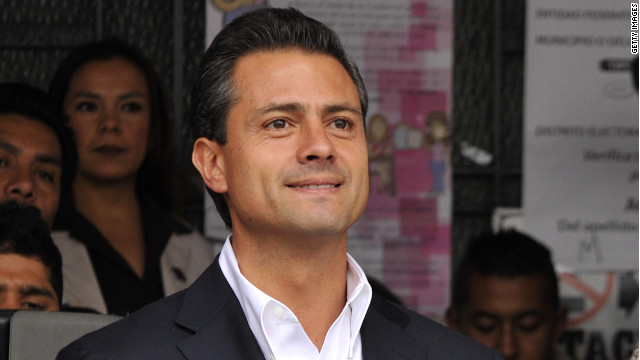 Mexico City (CNN) -- The political party that ruled Mexico for more than 70 years appears poised to return to power after election authorities projected Enrique Peña Nieto as the winner of the nation's presidential vote.
A quick count based on samples from polling stations throughout the country gave Peña Nieto the lead, with between 37.93% and 38.55% of votes, the Federal Election Institute said late Sunday night.
The projected victory for Peña Nieto marks a triumphant return to power for the Institutional Revolutionary Party (PRI), which lost its grip on Mexico's presidency to the conservative National Action Party in 2000.
"I take with great emotion and a great sense of commitment and full responsibility the mandate Mexicans have granted me today," Peña Nieto told supporters, standing at a podium with a sign that said "Mexico won."
But leftist candidate Andres Manuel Lopez Obrador, Peña Nieto's closest competitor, said Sunday night that he wasn't ready to concede.
"The last word has yet to be said," the former Mexico City mayor told supporters in the capital late Sunday. He trailed by 6 percentage points in the Sunday night quick count, which projected he garnered between 30.90% and 31.86% of the vote.
CC:
Read More From Source
Related Articles
Online Timesheet and time tracking Software
May 16, 2013, 2013 08:52:19 AM
---
TrakLive Bug Tracking and Issue Tracking Software
May 15, 2013, 2013 09:51:36 AM
---
Online Project Costing Software - A Cost Saving Business Solution
May 15, 2013, 2013 02:46:51 AM
---
Kindle fire hd 7 review
May 14, 2013, 2013 06:30:34 AM
---
Time And Expense tracking Software
May 09, 2013, 2013 07:44:02 AM
---