Mont Blanc avalanche: five Britons feared dead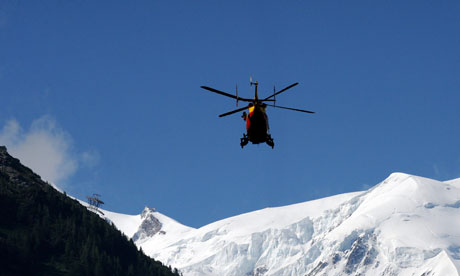 Five Britons are among a group of missing climbers feared dead after an avalanche killed at least nine people in the French Alps in the early hours of Thursday .
The tragedy struck just after 5am as a group of climbers began a dawn ascent on Mont Maudit (Accursed Mountain) in the Mont Blanc range at Chamonix. The climbers were reported to have been roped together in at least two teams as they climbed one of the most popular but dangerous routes up the mountain.
Philippe de Rumigny, prefect of the Haute-Savoie region, confirmed that nine bodies had been found. Six were discovered this morning and three at around midday.
The victims' nationalities have not been released, but unconfirmed reports suggest the dead include three Britons, two Swiss, two German and two Spanish climbers.
Nine others were injured and flown to hospital, while four remain missing.
A spokesman for the Alpine mountain rescue service, which scrambled a helicopter and sniffer dogs to the area after being alerted by an injured climber just after the avalanche, said it had probably been caused by snow collapsing in the warm July weather. "We were initially alerted just after dawn by one of the survivors who called us on a mobile phone," he said.
Bertrand François, commander of the Haute-Savoie gendarmerie, whose officers were combing the mountainside for survivors on Thursday, offered a glimmer of hope for the missing climbers, saying it was possible the missing had been ahead of the group struck by the avalanche and had not been swept way. "It doesn't necessarily mean they are under the avalanche," he said.
CC:
Read More From Source
Related Articles
To keep healthy, Eating healthy is the key
May 20, 2013, 2013 10:31:15 AM
---
Ideas to Stay Healthy using the Healthy Cooking Appliances
May 20, 2013, 2013 04:53:02 AM
---
TrakLive software
May 16, 2013, 2013 10:26:53 AM
---
Online Timesheet and time tracking Software
May 16, 2013, 2013 08:52:19 AM
---
TrakLive Bug Tracking and Issue Tracking Software
May 15, 2013, 2013 09:51:36 AM
---