Syria crisis: Tremseh 'massacre' - live updates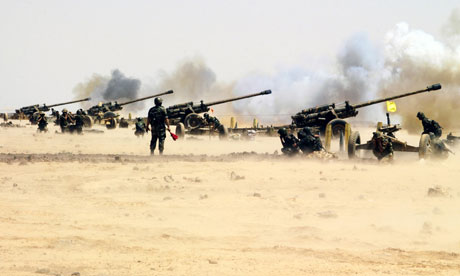 11.26am: International envoy Kofi Annan says the confirmed use of tanks and helicopters in Tremseh is a breach of the Assad regime's commitment to his peace plan.
In an unusually critical statement of the Syrian government he says:
I am shocked and appalled by news coming out of the village of Tremseh, near Hama, of intense fighting, significant casualties, and the confirmed use of heavy weaponry such as artillery, tanks and helicopters.

This is in violation of the government's undertaking to cease the use of heavy weapons in population centres and its commitment to the six-point plan.

Unsmis stands ready to go in and seek verification of the facts, if and when circumstances permit. The freedom of movement of the observers must be respected.

I condemn these atrocities in the strongest possible terms. It is yet another reminder of the nightmare and the horrors Syrian civilians are being subjected to.

It is desperately urgent that this violence and brutality stops and more important than ever that governments with influence exert it more effectively to ensure that the violence ends – immediately.

11.19am: Shadow foreign secretary Douglas Alexander (pictured) says the reported massacre in Tremseh underlines "the urgency with which the conflict in Syria must be brought to an end".
In a statement he added:
It is vital that the UN security council reconvene and press for further sanctions and a full scale arms embargo in light of this continuing and appalling violence.

With the mandate for the UN observers due to expire next week, the international community must be united and resolute in pursuing the steps necessary to stop the killing and allow the political transition to begin.
11.11am: Getting through to opposition sources in and around Tremseh is proving difficult even by Syrian standards.
The Guardian has to tried to make contact with 10 sources in the area this morning with no success.
Reuters says communications to area have been cut, which may explain the relative paucity of video footage from Tremseh.
Some activists said their accounts were based on satellite phone calls to residents in Tremseh, but that they had lost contact early in the morning.

Security forces were reported to have cut Internet and phone connections before they shelled and stormed the town on Thursday. Opposition groups said this was making it difficult for them to obtain and upload videos of the scene.

11.09am: The head of the monitoring mission in Syria, Maj Gen Robert Mood, said UN observers are ready to go to the Tremseh massacre site "if there is a ceasefire", al-Arabiyya TV reports.
The UN mission is due to end in a week unless its mandate is renewed.
10.48am: Firas Tlass, the businessman brother of defected general Manaf Tlass, still sees a role for Bashar al-Assad in Syria. The Saudi-owned newspaper, Asharq al-Awsat (in Arabic), interviewed him by phone in Paris:
Regarding what awaits the Syrian president, Bashar al-Assad, Tlass sees that Bashar al-Assad is still part of the solution (even though he is a large part of the crisis), saying that the most suitable solution for Syria would be for Bashar al-Assad to hand power to a joint council ... "which is what we might call a mixture of the Egyptian and Yemeni solutions".
CC:
Read More From Source
Related Articles
To keep healthy, Eating healthy is the key
May 20, 2013, 2013 10:31:15 AM
---
Ideas to Stay Healthy using the Healthy Cooking Appliances
May 20, 2013, 2013 04:53:02 AM
---
TrakLive software
May 16, 2013, 2013 10:26:53 AM
---
Online Timesheet and time tracking Software
May 16, 2013, 2013 08:52:19 AM
---
TrakLive Bug Tracking and Issue Tracking Software
May 15, 2013, 2013 09:51:36 AM
---