Condoleezza Rice would make a 'wonderful' vice-president, says Palin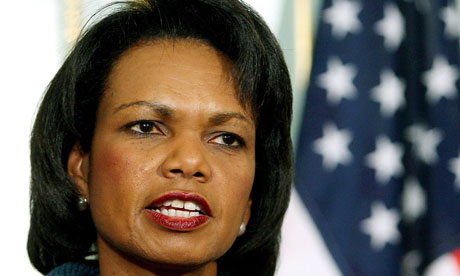 Speculation that Condoleezza Rice is being vetted by Mitt Romney as a possible running mate has been ratcheted up after Rice got an enthusiastic thumbs-up from Sarah Palin.
Palin, the former Alaska governor and John McCain's 2008 vice-presidential pick, gave Rice her backing in a move that is expected to fuel the rumour mill and continue debate over whether the former secretary of state would return to political life.
"She [Rice] has much more experience than our sitting president does today," Palin told Fox News host Greta Van Sustren.
Palin added that she believed Rice would make a "wonderful" vice-president if the Republicans were to reclaim the White House in November's election.
Rice's name first emerged in the stakes to be Romney's running mate when the conservative Drudge Report last week claimed that the Republican challenger was considering her as a possible pick.
CC:
Read More From Source
Related Articles
TrakLive software
May 16, 2013, 2013 10:26:53 AM
---
Online Timesheet and time tracking Software
May 16, 2013, 2013 08:52:19 AM
---
TrakLive Bug Tracking and Issue Tracking Software
May 15, 2013, 2013 09:51:36 AM
---
Online Project Costing Software - A Cost Saving Business Solution
May 15, 2013, 2013 02:46:51 AM
---
Time And Expense tracking Software
May 09, 2013, 2013 07:44:02 AM
---